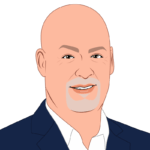 Chief Placement Officer / 800-485-9726 Ext: 315
SteveA@team-els.com
With over 20 years' retail experience, Steve Antonetti is a unique resource for his clients and candidates; a recruiter who has led successful operations in retail and knows the grocery industry from a national perspective.
His experience spans every level of store management including District Manager with Walmart Stores, and Regional Director with Save-A-Lot Food Stores most recently. Over his career, Steve has developed hands on, in-depth knowledge of all facets of the evolving grocery retail market including Store Operations, Merchandising, Marketing, and HR. He has placed 100+ retail professionals from Assistant Store Manager to Senior Vice Presidents of Merchandising.