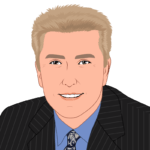 Sr. Executive Recruiter / 800-485-9726 Ext: 207
KentN@team-els.com
Prior to joining ELS, Kent spent 25 years as a Senior Executive working in diverse industry sectors including Oil & Gas, Retail and Healthcare. As a senior leader, he is comfortable working at both a strategic level as well as at a detailed level when the situation requires. His career began with Exxon Mobil, where he held approximately 12 positions of increasing responsibility in many of their downstream businesses (Refining, Distribution, Engineering, Industrial/Wholesale and Retail Gasoline / Convenience / Carwash). Kent has also held senior positions in big-box Retail as well as for-profit and not-for-profit Healthcare. As a hiring manager, Kent has had many successes attracting top flight talent and building high performance teams. He is excited to combine his track record as a hiring manager with the world-class recruiting model employed by Executive Leadership Solutions.
Kent and his wife Jennifer have recently relocated to Punta Gorda, Florida and built a new home. They both enjoy the outdoors and are taking full advantage of the Florida sunshine. Sports has always been a big part of Kent's life….he is an avid golfer and cyclist and enjoys all sports as a fan. He looks forward to working with both clients and candidates in a professional, honest and direct way which have always been trademarks of his working style.