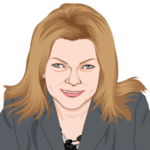 Vice-President / 800-485-9726 Ext: 222
CeliaT@team-els.com
A Connecticut native, Celia graduated from St. Joseph College with a Bachelor of Science degree in Business Administration. She began her career with Marriott Hotels and Resorts, working in Human Resources. She worked for Marriott for ten years in positions of increasing responsibility, ultimately being named Director of Human Resources of a busy 500-room hotel.
Celia then decided to make a career move into recruiting and went to work for C.A. McInnis & Associates, an executive search firm that specializes in the pharmaceutical industry. The experience she gained working in Human Resources for a large company helped her to work effectively in placing professional-level clinical development candidates with large pharmaceutical companies. She enjoyed ten successful years with C.A. McInnis & Associates as both a recruiter and Account Manager.
Volunteerism is important to Celia and she has been involved with local charities since moving to Florida. She worked as the Auction Chair for a large charity event to benefit the local children's hospital. She works with Empty Bowls, a charity which supports the Harry Chapin Food Bank and also with Café of Life, a local organization that provides meals to residents in need.
Since childhood, the Arts have been a big part of Celia's life. While living in Connecticut, she often attended Broadway plays, music performances and art exhibits in Manhattan. Now as a resident of Florida, she enjoys attending performances at both the Center for the Arts of Bonita Springs(CFABS) and Artis Naples. She is also an active volunteer at CFABS and has been recognized as "Volunteer of the Year".
Celia enjoys being part of the Executive Leadership Solutions team. She believes its high level of professionalism and integrity makes it the recruiting firm of choice for both candidates and clients.